CAST IRON GUTTERING SERVICES
Having tried and tested a variety of materials, we are proud to use Saint-Gobain Pipelines. Complying with British Standards Specifications and being the only cast iron manufacturer with third-party accreditation; they provide traditional metal cast iron rain water and guttering systems in a classical design.
Although plastic guttering is a low-cost alternative, it provides little or no aesthetic charm and it has a far shorter life span, whilst being much more fragile and being non-biodegradable. Whilst it has its place at the cheaper end of the market, discerning clients will prefer a more traditional, proven guttering method.
The cast iron gutters and downpipes have been manufactured at their Telford site for over 100 years providing service to the housing and construction markets. Their products are recognised by their aesthetic charm, their strength to withstand high winds and heavy snow, but above all their long life capabilities.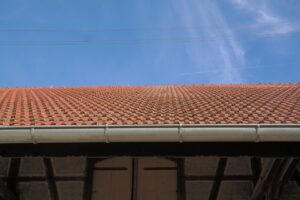 With over thirty five years of experience in the cast iron guttering system, we always adhere to the manufacturers 'recommended methods' when installing guttering systems. We like to think that most guttering problems can be overcome; on previous projects we have designed and installed custom brackets where conventional ones would have made it impossible for this type of installation to be fitted. Amongst others, the types of cast iron guttering available include OGEE, Traditional Heritage, Half Round and Classical Express.
For more information on how AJ Scutchings and Son can tailor a cast iron guttering solution to your specific needs please Contact Us or visit the Gallery for pictures of our work.
CAST IRON SOIL STACK
All prestigious properties should for aesthetic purposes have Cast Iron soil stacks. Time has shown that not only is Cast Iron a durable material that looks good, but that it is also built to last. There are various ways to install a Cast Iron soil stack, from the old traditional molten lead sealed joints to the new push-fit range with a neoprene rubber seal.
Why not Contact Us today to arrange an on-site assessment?
Areas We Cover
Bedford
Bedfordshire
Camden
Hertford
Stevenage
Westminster
Kensington & Chelsea