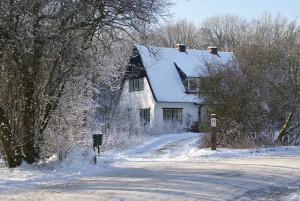 In the United Kingdom, we are fairly blessed to have relatively tame winters; bitterly cold and dreary they may be, yes, but in relation to other climates, the UK receives rather moderate weather changes during the winter months. However, our lack of terrible weather doesn't mean that your roof should be neglected during the colder season. Roof maintenance in the winter is a vital aspect to every homeowner, and will ensure that your home is fully protected from unexpected bouts of bad weather, should they decide to arrive.
AJ Scutchings and Son have therefore listed out three measures below you should take if you are worried about the state of your roof during the winter season.
Survey your roof
Roof maintenance in the winter begins from the ground. Pop your winter coat on and take the time to study the tiles on the roof and the surrounding, supporting gutters to see if anything looks particularly unusual – if you discover there is something that looks out of the ordinary, do not hesitate to call in a professional roofing company to ensure that any problems are solved as soon as possible. If there is an especially awful period of weather, such as heavy rain or snow, be sure to inspect your roof for any damage that may've occurred during the bad stretch of weather. Don't leave it until spring to sort out!
Clear all gutters
After autumn, you may discover that your gutters are blocked with the leaves from nearby trees, causing stagnant water to gather within the gutters, unable to drain away. If water remains within the gutters, your roof and its components will begin to rot away during the winter, leaving you with a massive problem that will be costly to fix. It is integral that you set aside some time to clear your gutters of all debris, particularly if bad weather is forecast for the coming days.
Remove snow and icicles from your roof
Snow is often an inevitable downside of winter. It may look beautiful, but it really can wreak havoc on your roof and guttering system. If we should see snow this winter and it is notably excessive, it could be putting an unnecessary strain on your roof and cause it to give-way. To negate this possibility, use a long rake or instrument similar to clear as much roof from the snow as possible – however, do not attempt to get on the roof yourself and clear the area if you aren't trained, as the slippery nature of ice will only lead to disaster. The ice and snow should naturally melt away and drain through the gutters, but if you are concerned, get advice from professional roofers to put your mind at ease.
If you would like to receive more tips about roof maintenance in the winter, or would like a professional to visit your property and undertake an on-site roof audit, do not delay in contacting AJ Scutchings and Son today at 07778 188 952. With over thirty-five years of experience within the roofing industry, our team are undoubtedly the leading roofing specialists within the Bedfordshire area, and will be able to assist your winter roofing needs in a calm and efficient manner.