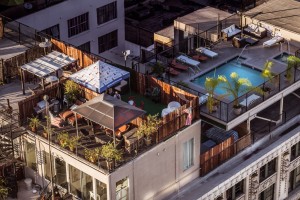 Have you ever wanted to know exactly what a rooftop garden is? Below, AJ Scutchings & Son detail the main aspects to rooftop gardens, offering advantages and stunning examples from across the globe to help our customers fully understand their use and worldwide popularity.
What is a rooftop garden?
A rooftop garden is the name given to a garden placed on top of a roof. They can be designed to fill a number of uses, for example, providing housing for wildlife or acting as an area for recreational purposes.
Why install a rooftop garden?
Generally, rooftop gardens are created to offer an eco-friendly area for those seeking a slightly different roofing alternative. Roof gardens are fantastic if you are located within a city with minimal space for foliage – away from the hustle and bustle of the street, a rooftop garden will become your own personal oasis. Roof gardens are often considered to be eco-friendly as they can reduce rainwater runoff and improve the overall air and water quality of the area. Owners are also encouraged to cultivate their own greenery within their rooftop garden, creating a wonderful habitat for necessary insects and wildlife such as bees.
What are the advantages to rooftop gardens?
There are a multitude of benefits to installing a rooftop garden. They can reduce your yearly heating costs, offering an extra layer of effective insulation whilst providing a unique exterior feature that will only enhance the value of your property should you decide to sell it. Roof gardens can also absorb sound from all directions and extend the lifetime of your roofing provisions, all whilst supplying a space that is quiet, tranquil, and beautiful.
Beautiful examples of rooftop gardens
The Rockafeller Center's Rooftop Gardens has been open for over 75 years, the Rockafeller staff meticulously maintaining a perfect, untouched appearance. These rooftop gardens are generally reserved for staff working within the sizeable building, however public access is sometimes granted. A second example is the Kensington Roof Gardens, owned by Virgin tycoon Richard Branson, which are known for their three unique sections specifically styled to reflect eras from across the globe. The Spanish Garden, based off Alhambra, Spain, offers a truly mediterranean feel, whilst the Tudor Garden utilises red bricks and grand arches of days past. The English Woodland is home to the Garden's wide variety of bird species, a horde of stunning Flamingos and exotic ducks strewn across the grounds.
Here at AJ Scutchings & Son, our expert team of roofers strive to remain aware of popular roofing trends to ensure that we offer the best service possible to our customers. If you'd like to speak to a member of our team regarding a roofing issue, do not hesitate to contact 07778 188 952 at your earliest convenience.