Ashley and Sam have been carrying out various roofing projects around Merchant Taylors' School in Northwood, London for over 15 years now. The AJ Scutchings and Son team has carried out a very diverse range of project types during that time:
Lead roofing
Cast iron and aluminium guttering installations
Copper works to dormer windows
General roofing repairs
Our latest project
Our latest project at the school was centred around the completion of a brand-new Geography building. Having made lead hopper heads for the school before, we were asked to fabricate 8 new heads from scratch by the architect in charge of running the project.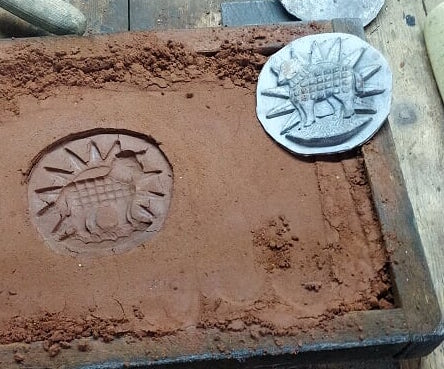 Ensuring continuity
The hopper heads also needed to include the school's own logo and be an identical match to the ones that have been a part of the school for close to 100 years. To do this successfully, we had to hand-cast molten lead into a sand frame before then forming it into the correct mould.
Aside from the hopper heads, we also installed 4'' powder-coated cast iron downpipes complete with an access point on each section. The cast iron is handmade in Ilkeston, Derbyshire by Saint Gobain Pam and finished with a powder-coated black paint.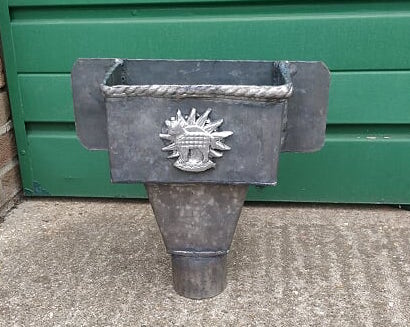 What the customer said
"Over [the past few] years, Scutchings Roofing have carried out work for Merchant Taylors' School, which is a Grade 2 listed building, including repairing copper roofed dormers to reinstating lead downpipes and lead lining of roofs. All work has been carried out with great profession [and] skill" – Martin Roberts, maintenance supervisor.