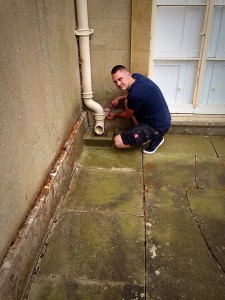 Aluminium Guttering in Cambridge
For over 35 years, we have been supplying aluminium guttering to our customers in Cambridge and the surrounding areas. Here at AJ Scutchings and Son, we specialise in providing outstanding drainage solutions to our customers, ensuring that we work with the most reliable materials to ensure a long lasting result. We have specialist knowledge when it comes to roofing and guttering, so you can put your faith in us to provide you with exceptional aluminium guttering.
When your guttering begins to give, it can be easy to turn to cheap, plastic guttering as a quick solution. However, despite it holding a place as a more economical drainage solution, plastic guttering is not sufficient when it comes to effective, long term drainage. Plastic guttering offers a far shorter lifespan than our aluminium guttering, due to its fragility, as well as being non-recyclable.
We have been providing our Cambridge customers with Marley Alutec guttering for years. As one of the largest plumbing and drainage companies in the UK, they offer some of the most innovative and long lasting aluminium guttering on the market.
The life expectancy of aluminium guttering exceeds 50 years, meaning that your investment will continue giving back year after year. It is available in a variety of style options so you can choose one to suit your Cambridge home, from a more economical option to a traditional style that looks just like cast iron guttering. The benefits of aluminium are astronomical, with it being corrosion resistant as well as 100% recyclable.
We frequently service Cambridge based homes, meaning that we understand the area and the buildings. As your local guttering specialists, we would be happy to advise you on aluminium guttering solutions for your home. Do not hesitate to get in touch with our team on 07778 188 952. We look forward to hearing from you shortly.